"Good Lawyers Should Be Good Psychologists"
Although law and psychology are two separate disciplines, they are united by their interest in human behavior. Psychology seeks to understand and explain human behavior while law seeks to regulate human behavior. As a practicing advocate for more than a decade in all courts of law, Mr.Pujari intuited that an effective advocate must have a good understanding of how people think and make decisions. He started focusing on psychological insights in interviewing and providing initial counseling to clients in civil, criminal, and matrimonial cases. Over the time, he figured out that the best way is to combine his interest in human behavior and the law and evolved as Psylawgist, a unique and first of its kind role in the world.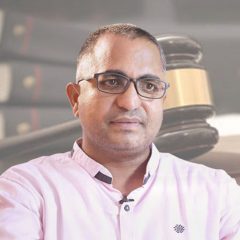 Nageshwar Rao Pujari
Advocate & Psylawgist
Mr. Pujari is well known for multi-disciplinary knowledge and approach in handling any legal matters. His cases are drafted with masterly finesse. Mr. Pujari standout as an acclaimed figure among the High Court Advocates fraternity. He is known for uncompromising nature, quality work, strict adherence to professional ethics and a vast knowledge bank.

Mr. Pujari brings perfection to his lawsuits and conducts profession with utmost seriousness and dedication. It is for this reason that Mr. Pujari is well known among the Best High Court Advocates in State of Telangana.

Widely respected among the legal fraternity, Mr. Pujari is frequently invited as a guest to various television and radio talks and is looked upon for opinion on legal matters of grave social concerns. His comprehensive knowledge stems from a fruitful association with distinguished lawyers across the State.